Royal Rangers: Outpost 42

Outpost 42 meets every Wednesday night at 7:00 PM. We do things like camp, hike and build pinewood derby cars… all while learning about life in the Word.  If you have boys from grades K-12, or are interested in taking part in the ministry, visit one of our meetings or speak with a leader today.
Check out our brand new Outpost 42 Royal Ranger and FCF logos! Official OP42 Patches Coming Soon to a ball cap or awards vest near you!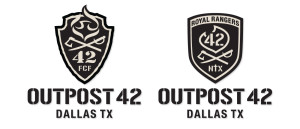 If you weren't with us for CAMPORAMA 2016, here's a little taste of what you missed. Get into to Rangers and join us in Eagle Rock MO for CAMPORAMA 2020!
ABOUT ROYAL RANGERS
The Royal Rangers program is an activity-based, small group church ministry for boys and young men in grades K-12.  Our mission is to evangelize, equip and empower the next generation of Christlike men and lifelong servant leaders. We provide Christlike character formation and servant leadership development for boys and young men in a highly relational and fun environment.
The Royal Rangers program is a cross-generational ministry that interconnects well with children, youth and adult ministries and fits easily into the fabric of pastoral vision and into the flow of church ministries.  We affirm the male hands-on, interactive learning style by featuring an intentional discipleship journey for boys and young men based on their unique design, needs and interests. Every meeting, outing or service activity is designed to encourage boys and young men in their walk with God.
We provide men with the tools to model Christlike manhood as they mentor boys on a Bible-based, Christ-centered, Spirit-empowered journey to maturity in the faith. Boys learn to study and apply what the Bible says about integrity, doctrine, biblical worldview, cultural issues and manhood. In addition, the Royal Rangers ministry molds boys into servant leaders, teaching them vital social, equipping, attitude, leadership and service skills.
For more info, visit the official (national) Royal Rangers site.
NTX DISTRICT POW-WOW

Apr 28 – 30
The Royal Rangers Camp at Lakeview
Next up is the Spring Pow-Wow. Join us for a Fire-startin', Hawk-chuckin' Mallow-roastin' good time. Men(tors) of all ages welcome. See a commander for details or check back soon.
UPCOMING EVENTS

April 8th
Pow Wow Work Day
Location: The Royal Rangers Camp at Lakeview
Come help us clean up our camp / reserve the best site! Bring your mowers, weed-whackers and work gloves… and hang out with the guys!
Jun 22-25
JLDA – Junior Leadership Development Academy (view details)
Location: The Royal Rangers Camp at Lakeview
CHARTERING / DUES
Why Charter? Chartering happens once a year. It allows our outpost significant discounts on district and national camp-outs, access to educational & training materials, as well as a significant discount on merit badges.
Chartering Fees are due each fall.
Cost:
$11 Rangers
$13 Leaders

BADGE & PATCH PLACEMENT
Below are a set of PDF layouts that show where all badges, patches  and pins should be placed on official Royal Ranger uniforms.
Awards Vest Patch & Pin Placement

UNIFORM COSTS
Ranger T-shirt   $10
Ranger Vest   $12
Ranger Khaki Utility Shirt   $35
Outpost Patches provided at no cost
Replacement Patches Available – see commanders for cost

FUTURE EVENTS

With our fall camp-out to Austin in the books, we are looking for input on our next big adventure. Let's go BIG or stay home…